Finally! I'm so proud to present you the roundup of Delicious Vietnam #5. There are some exotic entries (snail soup!) as well as more familiar dishes like noodle soup or chicken cabbage salad. All in all, a fabulous month, and thanks for support Delicious Vietnam!
SAVORY ENTRIES
Two recipes for Chicken cabbage salad, and I tell you, read and savor both. Almost every Vietnamese family has an unique way to prepare this dish, but the classic flavors and textures are always there.
Vietnamese chicken salad (Gỏi Gà or Gỏi Bắp Cẚi Gà) – White on Rice Couple
"There are many variations of this fabulous and classic Vietnamese Chicken Salad. The salad can be especially pleasing with different textures and flavors ranging from fried shallots, roasted peanuts, fried garlic and picked onions to different Vietnamese herbs such as mint, basil or the classic rau ram (Viet coriander). Some salads will be heartier with more chicken than cabbage, so you can choose your ratios and toppings to your personal taste. The chicken can be boiled, poached, grilled, fried or bbq."
Chicken and Cabbage Salad – Javaholic
"Some recipes call for using rice vinegar for the dressing; others use lime juice. Personally, I prefer the latter. The freshness of the lime makes the salad so much more lively and refreshing. If you have some ground roasted peanuts or fried shallots on hand, a tablespoon or two make a nice addition on top of the salad."
Bò Nướng Lá Lốt (Vietnamese Grilled Beef in Wild Betel Leaf ) – Indonesia Eats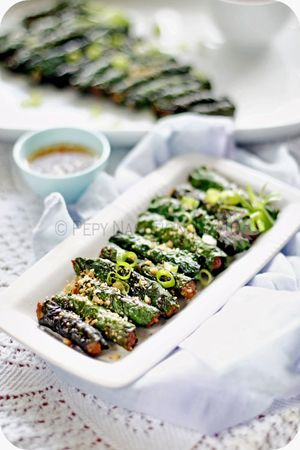 "Summer is almost over, but we still do grilling or barbecuing, don't we?" – Yes!! Especially with this wonderful dish! 😉
Bún măng vịt (Duck and Bamboo Vermicelli Soup) – MissAdventure@home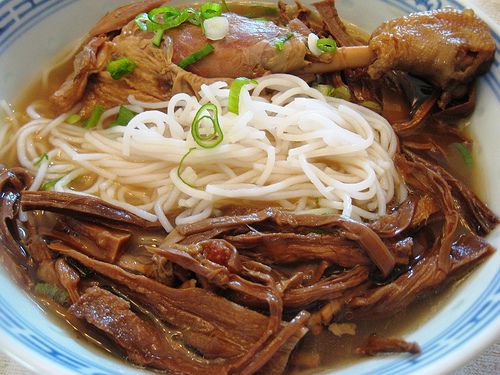 "Just as phở, the most well known Vietnamese soup (and arguably the most well known Vietnamese dish), bún măng vịt hails from Northern Vietnam. Unlike phở, it is not a mainstream soup and cannot be easily found on restaurant menus. It is distinct due to the use of dry bamboo shoots, which imparts a unique flavour, resulting in a dark, tea-like, slightly pungent broth."
Bun Oc (Vietnamese Snail Noodle Soup) – BonnieBella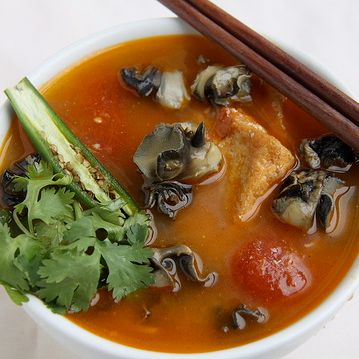 "I like to make a dipping sauce of shrimp paste, lemon and a squirt of siracha. The perfect bite while consuming Bun Oc is a spoonful of soup, noodle, a perilla and Vietnamese coriander leaf. Before slurping the spoon, I dip a snail in my dipping sauce and then sluuurp. Then, I chase the bite with tofu, morning glory, bean sprout and more soup."
Canh Chua Ca (Sweet and Sour Soup with Mahi-mahi) – Beginner mom on the run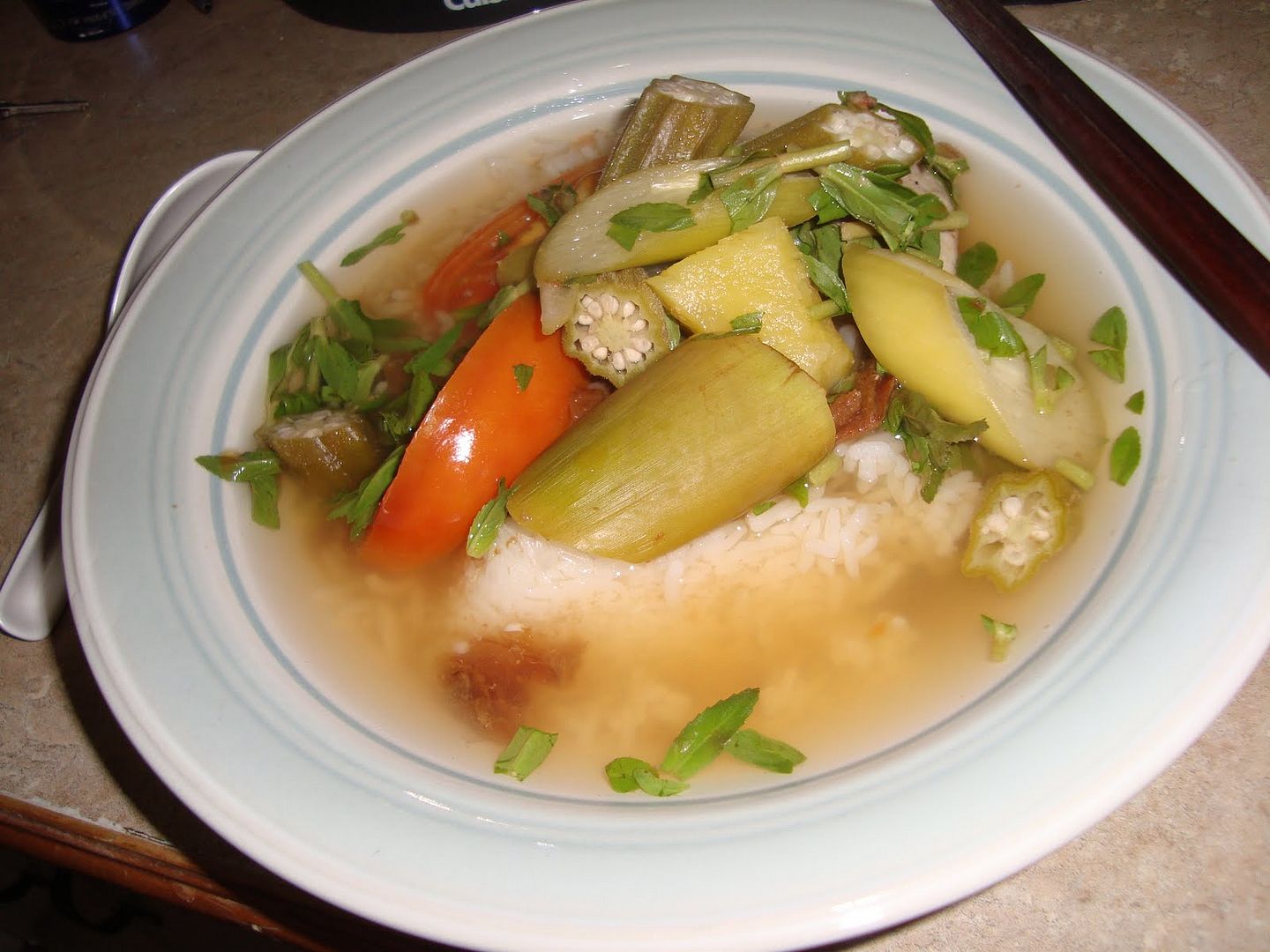 "…Now eleven years have passed and I have defeated all my hurt feelings of trying to make Canh Chua Ca. And Hubster's words were,"Man this is really good honey, you nailed this one, and the Mahi-mahi is great in this dish! Nice Job!"
Mì Gà (Vietnamese Chicken Noodle Soup) – Ravenous Couple
"Mi ga is one of our favorite noodle dishes because it combines the simple flavors of a broth steeped with chicken along with the great texture of fresh al dente egg noodles. Such a pure dish is actually hard to find even in Little Saigon. Egg noodle restaurants here specialize in more of the Chinese style like egg noodle soups such as mi vit tim or with barbecue pork such as xa xiu."
Prawn Spring Roll – Delicate Flavors
"Crispy Spring Roll with crunchy sweet large prawn, what could be more delicious or eye catching?"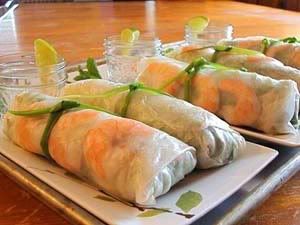 Growing up in Noietnamese fish dishes with local salmon instead of mayme, Alaska my mother has adapted a lot of Vietnamese cuisines with local caught food. Such as Moose pho instead of beef, bun rieu (tomato and crab noodle soup) with Alaskan king crab instead of dungeness, and various vbe the traditional catfish.
Vietnamese gingery chicken wings (gà rang gừng) – A food lover's journey
"…I find that most of country (or northern Vietnamese) dishes often highlight one-two main flavours. Say, like this gingery braised chicken dish, the warmth of ginger and white peppers are dominant. We may use other spices, too, but only sparingly…"
SOMETHING SWEET
Basic snowskin mooncake – bánh dẻo – A food lover's journey
"Making moon cakes, nevertheless, is something special. It brings me back to my childhood years. In Vietnamese culture, Moon Festival (tết Trung Thu) is a children-only event. That day, we got to stay up late and organised a big party with other kids. Lanterns of various kinds and colors were lit up. Nowadays one can find a lot of different types of lanterns in Hanoi during mid-autumn festival. But for me, nothing beats the star-shaped lanterns (đèn ông sao). The pattern has been the same and unchanged since forever."
TRAVEL – REVIEW
Green papaya salad with pork and prawns (Goi du du tom thit) @ Little Saigon and Dong Que Restaurants, Melbourne, Australia – Bear Head Soup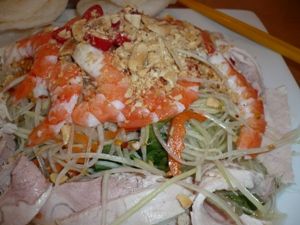 "…this is a brilliant salad. I was drooling with every mouthful I took. The salad contained plenty of the green papaya with some carrot and daikon radish. There was some mint and coriander and the dish was topped with chopped peanuts and a little sliced chili. The heroes of the dish were the sliced prawns and slices of the softest cold pork I have ever eaten. The tender pork and prawns were complimented perfectly with the crunch of the papaya and the peanuts. It was quite a big serve and I had to stop myself from eating the whole lot because it was just so great. A revelation. "
Nha Trang & Ho Chi Ming City – My Cooking Hut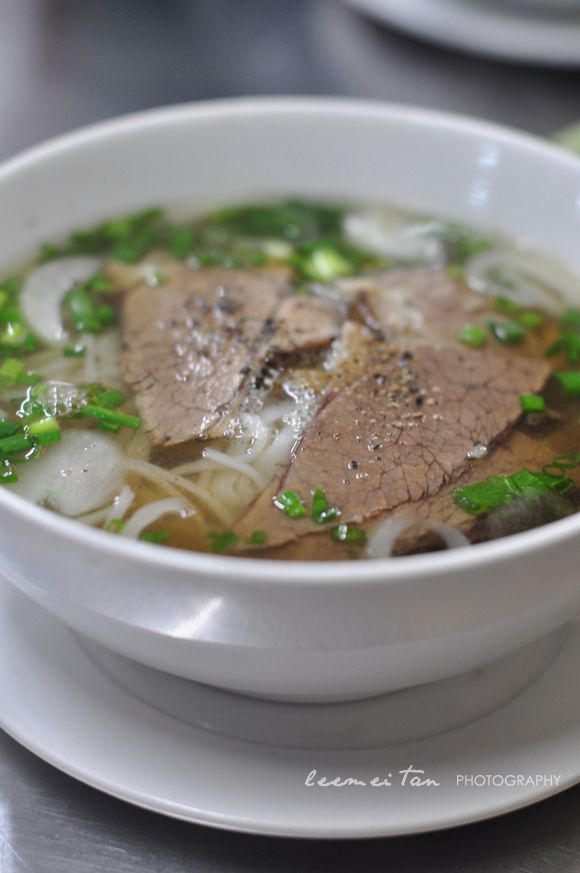 "Vietnam has a lot to offer. After spending some time in sight-seeing, immersing in the local culture and savouring delicious Vietnamese food; the idea of spending time under the sun doing nothing on a beautiful island was very inviting! I think Vietnam is a great destination for beach holiday. Its coastline stretches the entire length of the country, almost 3000km. Stunning white sandy beaches fringed by coconut palms and lapped by the warm South China Sea offer peace and tranquillity."
[ADDENDUM] – Sydney's best pho? – Foodwink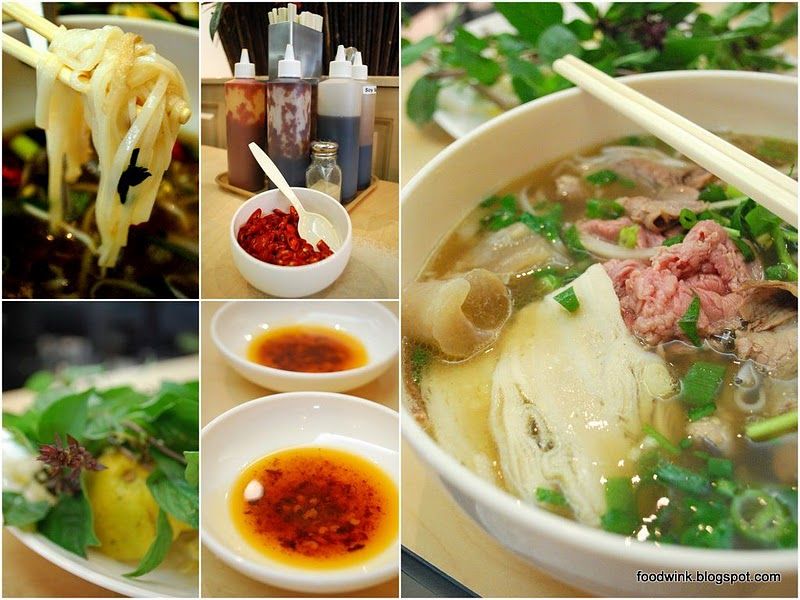 ***
That's it for Delicious #5. Hope you enjoy the roundup!
Delicious #6 is hosted by Javaholic. Send your entry to sijeleng[at]gmail[dot]com by 10 October 2010. (wow, special day! ;))